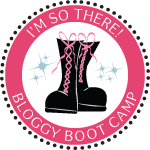 I spent my first full day, 8-6, away from my daughter. Not including lunch. My ever supportive husband drove Giovanna to see me during lunch so she could have some mama milk before nap time.
Even when I sold tea at the farmers market, I brought Gigi with me, carrying her in the front pack while I set up the booth, sampled and sold. Sometimes she nursed, sometimes she slept, sometimes she observed with round, curious eyes.
But on Saturday, I didn't take her with me. I went to Bloggy Boot Camp hosted by the SITS girls, and I left her with daddy.
Was I nervous?
Yes.
Did I miss her?
Yes.
Did I have fun anyways?
Yes.
I learned a lot and I made new bloggy friends. I have a stack of business cards and I intend to visit the website of every person I met. Eventually.
I also took a lot of notes. Some highlights:
Jenny from Jenny on the Spot warned against using auto-play music on your home page. I couldn't agree more. She encouraged us to set up a Facebook-like page for our blog. Um, I'll get right on that. I have one for my business…does that count? On a less technical level, she recommended that we saturate our selves with like-minds (GREAT advice), that we tilt our head for perspective, and that we always remember our first love. I had the privilege of speaking with Jenny and she is incredibly sweet and genuine.
Carol Schiller gave us the lowdown on how to pitch brands and monetize our blogs. This woman really spelled it out for us. Don't beg, deliver. What can you as a blogger offer the brand? You are unique, you have a unique solution, a unique angle. Be unique. Represent local businesses, the ones you can actually help. Stop talking about yourself in your pitches, and focus on identifying and solving a problem for your potential client. Focus on what you can do for them. Tell them what it's going to look like and feel like when their problem is fixed. Give them testimonials so they know you're the real deal. Be the real deal. And always conclude your pitch with a call to action. Carol Schiller is a Goddess of internet marketing. There's not much else to say.
Before lunch, Denae Handy talked to us about writing, an inherent and very crucial element to blogging. This woman is a character. A brilliant character. She's practically bursting with laughter and stories. She loves good stories and she loves to tell a good story. She said, no matter what you're writing, you must tell a story.
She spoke again (after lunch) at the writer's workshop, discussing narrative arc, David Sedaris, and the first 7 seconds. We have 7 seconds to make an impression with our website, and a maximum of 8 minutes of reading time. In which case, I will move on.
Marlynn Schotland, an adorable mother of two and a fierce entrepreneur, gave a lesson on balance, on finding the time to "do it all." Or at least pretend that you're doing it all. In reality, she instructed us to practice cutting out to do's that cause emotional clutter. (Practically a mortal sin for those of us enslaved by our to do list.) She also said that eliminating clutter cuts out 40% of the housework. What more motivation do you need to get rid of your junk? This woman knew what she was talking about. She even told us to delegate tasks to our children. Hallelujah. Isn't that why we have children in the first place?
Sheila Tan, the Chief Marketing Officer and Vice President of Marketing at Align Technology (the company making Invisalign), emphasized the importance of being present, positive, and staying true to yourself. She warned against taking yourself too seriously and trying to do it all alone. This woman immigrated from Burma at age 10, she has been a single mom of 3 kids, and she's the only executive at a big company. Her story was inspiring and heartbreaking and illustrated the point that you can do anything you want to do.
Jyl Johnson Pattee from Mom it Forward told a room full of eager bloggers to stop worrying about our numbers (I loved this!) and start thinking about our influence. An influencer, she said, was someone who is articulate, passionate, positive, solutions and results oriented, and understanding. Someone who follows through and thrives on community building. Jyl is a picture of an influencer. She is warm, approachable, friendly and fun. It is no wonder her website is an incredible community, growing each day.
The SITS girls — Tiffany, Francesca, and Mama Kat — are beautiful, funny, smart and social media geniuses. I think I might be a better blogger from just spending one day amongst them. That's how powerful community is.
And after all of that, I made it home for dinner.